Category: Anti-Aging and Longevity
VARICOSE VEINS - Natural Support For This Unsightly Condition
Master Immune Stimulant and Antioxidant
Vitamin C is a water-soluble vitamin that plays a major role in numerous biological functions including:
collagen synthesis (production of tendon, ligament, cartilage and skin)
immune function – increases white blood cell activity, interferon production and thymic hormone secretion.
cardiovascular health
cancer prevention
Levels of vitamin C are quickly depleted during infection. Our vitamin C is specially buffered to reduce acidity.
Vitamin C Buffered Capsules
One full gram of buffered vitamin C in every capsule.
An excellent source of antioxidant support, Buffered Vitamin C uses pure crystalline ascorbic acid to supply 1 gram of vitamin C in each capsule. This well-tolerated vitamin C formula supports a healthy immune system response and helps maintain healthy skin, collagen, and connective tissues.
Each (one) Capsule contains:
Vitamin C (ascorbic acid) – 1000 mg
Calcium (as calcium carbonate) – 20 mg
Magnesium (as magnesium carbonate) – 12 mg
Suggested dose: 1 capsule, 1-3 times per day, OR 1 capsule every 1-2 hours during acute illness, OR 1 capsule 3-4 times a day for accelerated vitamin C therapy.
Vitamin C Buffered Capsules – Product # 266 (60 Capsules) $15.95
Buffered Vitamin C Does Not Contain
artificial coloring
artificial flavoring
corn
dairy products
gluten
ingredients of animal origin
preservatives
salt
soy
sugar
wheat
yeast
Other Ingredients: vegetable capsule (modified cellulose), and ascorbyl palmitate.
---
Vitamin C Buffered Crystals
Description – High potency buffered vitamin Cpreparation in an effervescent, mineral-rich blend. Mixes easily in water or other beverages.
Each 1/4 teaspoon contains:
Vitamin C – 1066 mg
Calcium (calcium ascorbate) – 117 mg
Suggested dose: 1/4 teaspoon, 1-3 times per day, OR 1/4 teaspoon every 1-2 hours during acute illness, OR 1/4 teaspoon 3-4 times a day for accelerated vitamin C therapy.
Vitamin C Buffered Crystals – Product # 146 (8.8 ounces) $18.95
What You Should Know (But Have Not been Told) About Your Drinking Water
Water is essential for good health
your drinking and bathing water may be contaminated
water contaminants are linked to a wide variety of illnesses
how you can protect yourself from impure water
Every Body Needs Water
57-70% of adult human body weight is water. Every cell in the body is dependent on water for survival and optimal function. Consider a few of the many important functions of body water:
maintenance of normal skin tone (dehydrated skin appears wrinkled
maintenance of normal bowel function (lack of water is a common cause of constipation
maintenance of normal urinary tract function (lack of water can lead to urinary tract infection, urinary frequency, kidney stones and bladder cancer)
maintenance of normal muscle tone
maintenance of normal fluid balance (dehydration leads to water retention; sufficient water acts as a diuretic)
maintenance of normal digestion (many nutrients are transported via the body's water)
elimination of toxins (lungs, kidneys, skin and intestinal tract all depend on water for eliminative functions)
joints require sufficient water to make the "jello" (glycosaminoglycands) that provide cushioning
Your Best Bet for Safe Drinking Water
Your best bet for safe, clean drinking water is install an under-sink or countertop water purifier. The reverse-osmosis type is very reliable. If you don't want to invest the money to do that, a simple pitcher with a charcoal filter is better than most bottled water. You can see how different systems stack up with this brand comparison chart
.
And don't forget your shower-water! When you're hot (and your skin's pores are wide-open), you can absorb toxins from the water. Shower filters
are inexpensive and reliable.
For maximum protection, whole house water filters
are the ultimate safeguard against water-borne toxins and impurities. These are not inexpensive but they offer great peace of mind.
A Good Water Filter is a Cheap Investment in Your Health
A reliable, highly-effective under-sink water filter is an excellent health investment, especially when you consider how important water is to health. The human body is about 60% water. That means we can have 60% of our total body weight contaminated with a variety of toxins if we drink lousy water.
The highest-rated water filters cost about the same as the cheap junk.
Aquasana Water Purifiers makes some of the highest-rated filters at the best prices.
Water Testing
Regular (annual) testing of your family's drinking water is a wise investment in good health – especially if you are drinking municipal water that has been "treated", flouridated and chlorinated! Well-water is also subject to contamination from a variety of sources and must be tested annually to ensure your family's safety.
Vitex (Vitex agnus-castus)
"Chaste Berry" for Hormone Balance
Vitex, commonly known as "Chaste-berry" because of it's effect on hormones, has hormonal effects on both men and women.
Vitex inhibits the action of male androgens (sex hormones). The name "Chaste tree" came from it's use by monks to decrease libido. Vitex effects prolactin, the hormone responsible for making breast milk in women (although men have prolactin hormone, too). In very small doses, (120mg), prolactin may be increased in men. In higher doses, prolactin is decreased in both men and women.
In men, Vitex is used to treat prostate cancer because of its ability to inhibit male hormones and keep prolactin levels low. In women, Vitex has progesterone effects and is often used as a hormone regulator when more progesterone is indicated, such as in menopause.
The more common uses of Vitex include:
Prostate cancer
Female menopause
PMS
Irregular periods
Infertility
Recommended dose: 2 caps (500mg) per day between meals.
REFERENCES
Merz G, Gorkow C, Schrödter A, Rietbrock S, Sieder C, et al. The effects of a special Agnus castus extract (BP1095E1) on prolactin secretion in healthy male subjects. Exp Clin Endocrinol Diabetes 1996; 104(6): 447-453.
Sliutz G, Speiser P, Schultz AM, et al. Agnus castus extracts inhibit prolactin secretion of rat pituitary cells. Horm Metab Res 1993;25:253–5.
Böhnert KJ. The use of Vitex agnus castus for hyperprolactinemia. Quart Rev Nat Med 1997;Spring:19–21.
Bone K. Vitex agnus-castus: Scientific studies and clinical applications. Eur J Herbal Med 1994;1:12–5.
Milewicz A, Gejdel E, Sworen H, et al. Vitex agnus castus extract for the treatment of menstrual irregularities due to latent hyperprolactinemia. Arzneim Forsch 1993;43:752–6 [in German].
Dr. Myatt's Up and At 'Em formula
Description- A Superior "senior" herb formula with ginkgo, hypericum & ginseng. High-potency liquid tincture. For depression, age-related memory changes, erectile dysfunction.
Contains: Ginkgo biloba, Hypericum, (St. John's Wort) Eleutherococcus senticosis (Siberian ginseng).
Suggested dose 60-80 drops, 2-4 times per day. Must be used for at least 3 weeks before results become apparent.
The Premier Fat-Soluble Antioxidant
Vitamin E is the primary fat-soluble antioxidant vitamin in the body. (Vitamin C is the primary water-soluble antioxidant). Vitamin E plays a major role in  cellular respiration. Deficiencies of Vitamin E are associated with:
heart disease
cancer
strokes
arthritis
allergies
infections
inflammation
diabetes
neurological damage
muscle weakness
fibrocystic breast disease
eczema
macular degeneration
poor wound healing
Dietary sources of Vitamin E include: wheat germ oil, nuts, whole grains, egg yolk.
NOTE: Doses over 800 IU per day of vitamin E may elevate triglycerides.
Maxi Multi provides 400 IU per day of Vitamin E
Those requiring additional Vitamin E supplementation should consider Tocotrienols
Hormone, Bone Health and Cholesterol Balance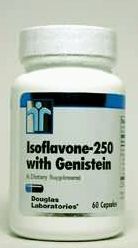 Soy and its major components daidzein and genistein, has estrogenic effects and can acts as an  estrogen-modulator in both men and women. Soy also has cholesterol-lowering, antioxidant and anti-cancer effects.
Soy has been shown to:
lower the risk of cardiovascular disease
(a health claim allowed by the FDA) 24-27
exert anti-cancer effects (may help prevent and even treat cancer, especially breast and prostate cancer) 10-23
lower cholesterol levels 1-9
increase bone density and decrease bone mineral loss 28-33
improve insulin sensitivity 34-35
improve menopausal symptoms 36-40
possess antioxidant properties 41-45
Soy may therefore be useful in:
Cancer prevention and treatment
Heart disease
High cholesterol
Menopause symptoms
Osteoporosis prevention and treatment
Allergy to soy can cause bowel gas and discomfort; raw soy products may inhibit thyroid function. In sensitive individuals, the benefits of soy may be obtained and the GI effects avoided by using the purified soy capsules.
Soy Extract (Isoflavone-250) Soy Isoflavones Benefit Both Women & Men
Beneficial substances in soy, (isoflavones, diadzen, and genisteins) have been shown to lower cholesterol levels, normalize male and female hormone balance, and prevent cancer. Soy is also used in the treatment of cancer, especially prostate and some types of breast cancers. (Physician guidance highly recommended here as soy can increase hormone levels when this is not desired).
Suggested dose: 1cap, once or twice per day with a meal. Higher doses may be used if needed to relieve menopausal hot flashes or as recommended by a physician for treatment of cancer or cholesterol levels.
References:
1.) Xiao CW, Mei J, Wood CM. Effect of soy proteins and isoflavones on lipid
metabolism and involved gene expression. Front Biosci. 2008 Jan
1;13:2660-73.
2.) Taku K, Umegaki K, Sato Y, Taki Y, Endoh K, Watanabe S. Soy isoflavones lower serum total and LDL cholesterol in humans: a meta-analysis of 11 randomized controlled trials. Am J Clin Nutr. 2007 Apr;85(4):1148-56.
3.) Torres N, Torre-Villalvazo I, Tovar AR. Regulation of lipid metabolism by
soy protein and its implication in diseases mediated by lipid disorders. J
Nutr Biochem. 2006 Jun;17(6):365-73. Epub 2005 Dec 5.
4.) Zhan S, Ho SC. Meta-analysis of the effects of soy protein containing
isoflavones on the lipid profile. Am J Clin Nutr. 2005 Feb;81(2):397-408.
5.) Zhuo XG, Melby MK, Watanabe S. Soy isoflavone intake lowers serum LDL
cholesterol: a meta-analysis of 8 randomized controlled trials in humans. J
Nutr. 2004 Sep;134(9):2395-400.
6.) Dalais FS, Ebeling PR, Kotsopoulos D, McGrath BP, Teede HJ. The effects of soy protein containing isoflavones on lipids and indices of bone resorption in postmenopausal women. Clin Endocrinol (Oxf). 2003 Jun;58(6):704-9.
7.) Tonstad S, Smerud K, Høie L. A comparison of the effects of 2 doses of soy protein or casein on serum lipids, serum lipoproteins, and plasma total
homocysteine in hypercholesterolemic subjects. Am J Clin Nutr. 2002
Jul;76(1):78-84.
8.) Wangen KE, Duncan AM, Xu X, Kurzer MS. Soy isoflavones improve plasma lipids in normocholesterolemic and mildly hypercholesterolemic postmenopausal women. Am J Clin Nutr. 2001 Feb;73(2):225-31.
9.) Teixeira SR, Potter SM, Weigel R, et al. Effects of feeding 4 levels of soy
protein for 3 and 6 wk on blood lipids and apolipoproteins in moderately
hypercholesterolemic men. Am J Clin Nutr 2000;71:1077–84.
10.) Pendleton JM, Tan WW, Anai S, Chang M, Hou W, Shiverick KT, Rosser CJ. Phase II trial of isoflavone in prostate-specific antigen recurrent prostate cancer after previous local therapy. BMC Cancer. 2008 May 11;8:132.
11.) Banerjee S, Li Y, Wang Z, Sarkar FH. Multi-targeted therapy of cancer by
genistein. Cancer Lett. 2008 May 18. [Epub ahead of
print].[###antioxidant###]
12.) Subbiah U, Raghunathan M. Chemoprotective action of resveratrol and genistein from apoptosis induced in human peripheral blood lymphocytes. J Biomol Struct Dyn. 2008 Feb;25(4):425-34.
13.) Kampkötter A, Wiegand C, Timpel C, Röhrdanz E, Chovolou Y, Kahl R, Wätjen W. Increased expression of catalase in human hepatoma cells by the soy isoflavone, daidzein. Basic Clin Pharmacol Toxicol. 2008 May;102(5):437-42. Epub 2007 Nov 28.
14.) Vaishampayan U, Hussain M, Banerjee M, Seren S, Sarkar FH, Fontana J, Forman JD, Cher ML, Powell I, Pontes JE, Kucuk O. Lycopene and soy isoflavones in the treatment of prostate cancer. Nutr Cancer. 2007;59(1):1-7.
15.) Sarkar FH, Adsule S, Padhye S, Kulkarni S, Li Y. The role of genistein and synthetic derivatives of isoflavone in cancer prevention and therapy. Mini
Rev Med Chem. 2006 Apr;6(4):401-7.
16.) Kumar NB, Cantor A, Allen K, Riccardi D, Besterman-Dahan K, Seigne J, Helal M, Salup R, Pow-Sang J. The specific role of isoflavones in reducing prostate cancer risk. Prostate. 2004 May 1;59(2):141-7.
17.) Yamamoto S, Sobue T, Kobayashi M, Sasaki S, Tsugane S; Japan Public Health Center-Based Prospective Study on Cancer Cardiovascular Diseases Group. Soy, isoflavones, and breast cancer risk in Japan. J Natl Cancer Inst. 2003 Jun 18;95(12):906-13.
18.) Sarkar FH, Li Y. Soy isoflavones and cancer prevention. Cancer Invest.
2003;21(5):744-57.
19.) Hussain M, Banerjee M, Sarkar FH, Djuric Z, Pollak MN, Doerge D, Fontana J, Chinni S, Davis J, Forman J, Wood DP, Kucuk O. Soy isoflavones in the treatment of prostate cancer. Nutr Cancer. 2003;47(2):111-7.
20.) Sarkar FH, Li Y. Mechanisms of cancer chemoprevention by soy isoflavone genistein. Cancer Metastasis Rev. 2002;21(3-4):265-80.
21.) Lamartiniere CA, Cotroneo MS, Fritz WA, Wang J, Mentor-Marcel R, Elgavish A. Genistein chemoprevention: timing and mechanisms of action in murine mammary and prostate. J Nutr. 2002 Mar;132(3):552S-558S.
22.) Lamartiniere CA. Protection against breast cancer with genistein: a
component of soy. Am J Clin Nutr. 2000 Jun;71(6 Suppl):1705S-7S; discussion 1708S-9S.
23.) Messina MJ, Persky V, Setchell KD, Barnes S. Soy intake and cancer risk: a review of the in vitro and in vivo data. Nutr Cancer 1994;21:113–31.
24.) Rimbach G, Boesch-Saadatmandi C, Frank J, Fuchs D, Wenzel U, Daniel H, Hall WL, Weinberg PD. Dietary isoflavones in the prevention of cardiovascular disease–a molecular perspective. Food Chem Toxicol. 2008 Apr;46(4):1308-19. Epub 2007 Jul 3.
25.) Clair RS, Anthony M. Soy, isoflavones and atherosclerosis. Handb Exp
Pharmacol. 2005;(170):301-23.
26.) Cassidy A, de Pascual Teresa S, Rimbach G. Molecular mechanisms by which dietary isoflavones potentially prevent atherosclerosis. Expert Rev Mol Med. 2003 Sep 30;5(24):1-15.
27.) Clarkson TB. Soy, soy phytoestrogens and cardiovascular disease. J Nutr.2002 Mar;132(3):566S-569S.
28.) Ma DF, Qin LQ, Wang PY, Katoh R. Soy isoflavone intake increases bone mineral density in the spine of menopausal women: meta-analysis of
randomized controlled trials. Clin Nutr. 2008 Feb;27(1):57-64. Epub 2007 Dec
11.
29.) Harkness LS, Fiedler K, Sehgal AR, Oravec D, Lerner E. Decreased bone
resorption with soy isoflavone supplementation in postmenopausal women. J
Womens Health (Larchmt). 2004 Nov;13(9):1000-7.
30.) Messina M, Ho S, Alekel DL. Skeletal benefits of soy isoflavones: a review of the clinical trial and epidemiologic data. Curr Opin Clin Nutr Metab
Care. 2004 Nov;7(6):649-58.
31.) Chen YM, Ho SC, Lam SS, Ho SS, Woo JL. Soy isoflavones have a favorable effect on bone loss in Chinese postmenopausal women with lower bone mass: a double-blind, randomized, controlled trial. J Clin Endocrinol Metab. 2003 Oct;88(10):4740-7.
32.) Messina M, Messina V. Soyfoods, soybean isoflavones, and bone health: a brief overview. J Ren Nutr. 2000 Apr;10(2):63-8.
33.) Alekel DL, Germain AS, Peterson CT, Hanson KB, Stewart JW, Toda T.
Isoflavone-rich soy protein isolate attenuates bone loss in the lumbar spine
of perimenopausal women. Am J Clin Nutr. 2000 Sep;72(3):844-52.
34.) Cederroth CR, Vinciguerra M, Gjinovci A, Kühne F, Klein M, et al. Dietary
phytoestrogens activate AMP-activated protein kinase with improvement in
lipid and glucose metabolism. Diabetes. 2008 May;57(5):1176-85. Epub 2008
Apr 16.
35.) Nordentoft I, Jeppesen PB, Hong J, Abudula R, Hermansen K. Increased Insulin Sensitivity and Changes in the Expression Profile of Key Insulin Regulatory Genes and Beta Cell Transcription Factors in Diabetic KKAy-Mice after Feeding with a Soy Bean Protein Rich Diet High in Isoflavone Content. J Agric Food Chem. 2008 Jun 4. [Epub ahead of print]
36.) Cheng G, Wilczek B, Warner M, Gustafsson JA, Landgren BM. Isoflavone
treatment for acute menopausal symptoms. Menopause. 2007 May-Jun;14(3 Pt 1):468-73.
37.) Nahas EA, Nahas-Neto J, Orsatti FL, Carvalho EP, Oliveira ML, Dias R.
Efficacy and safety of a soy isoflavone extract in postmenopausal women: a
randomized, double-blind, and placebo-controlled study. Maturitas. 2007 Nov
20;58(3):249-58. Epub 2007 Oct 29.
38.) McCarty MF. Isoflavones made simple – genistein's agonist activity for the
beta-type estrogen receptor mediates their health benefits. Med Hypotheses.
2006;66(6):1093-114. Epub 2006 Mar 2.
39.) Messina M, Hughes C. Efficacy of soyfoods and soybean isoflavone supplements for alleviating menopausal symptoms is positively related to initial hot flush frequency. J Med Food. 2003 Spring;6(1):1-11.
40.) Burke GL, Legault C, Anthony M, Bland DR, Morgan TM, Naughton MJ, Leggett K, Washburn SA, Vitolins MZ. Soy protein and isoflavone effects on vasomotor symptoms in peri- and postmenopausal women: the Soy Estrogen Alternative Study. Menopause. 2003 Mar-Apr;10(2):147-53.
41.) Bertipaglia de Santana M, Mandarino MG, et al. Association between soy and
green tea (Camellia sinensis) diminishes hypercholesterolemia and increases
total plasma antioxidant potential in dyslipidemic subjects. Nutrition. 2008
Jun;24(6):562-8.
42.) Kim NY, Song EJ, Kwon DY, Kim HP, Heo MY. Antioxidant and antigenotoxic activities of Korean fermented soybean. Food Chem Toxicol. 2008 Mar;46(3):1184-9. Epub 2007 Dec 8.
43.) Hämäläinen M, Nieminen R, Vuorela P, Heinonen M, Moilanen E. Anti-inflammatory effects of flavonoids: genistein, kaempferol, quercetin, and daidzein inhibit STAT-1 and NF-kappaB activations, whereas flavone, isorhamnetin, naringenin, and pelargonidin inhibit only NF-kappaB activation along with their inhibitory effect on iNOS expression and NO production in activated macrophages. Mediators Inflamm. 2007;2007:45673.
44.) Hu CC, Hsiao CH, Huang SY, Fu SH, Lai CC, Hong TM, Chen HH, Lu FJ. Antioxidant activity of fermented soybean extract. J Agric Food Chem. 2004 Sep 8;52(18):5735-9.
45.) Cai Q, Rahn RO, Zhang R. Dietary flavonoids, quercetin, luteolin and genistein, reduce oxidative DNA damage and lipid peroxidation and quench free radicals. Cancer Lett. 1997 Oct 28;119(1):99-107.
Smoking weakens the immune system by inhibiting cellular immunity.
Tobacco smoke contains carbon monoxide, a substance that is toxic to the brain.
Tobacco smoking is associated with a higher incidence of gingivitis and tooth loss.
Tobacco smoke contains cadmium, a heavy metal that can cause high blood pressure, kidney stones, and other toxic symptoms.
Tobacco smoke induces the formation of free radicals – highly reactive molecules that can bind to normal, healthy cells and destroy them.
Smokers have a higher incidence of peptic ulcer disease, a decreased response to anti-ulcer medications, and a higher mortality from peptic ulcer.
Female smokers are at higher risk of developing osteoporosis.
Female smokers are at higher risk for premature menopause.
Smoking accelerates skin aging and wrinkle formation.
Smoking causes a decrease in penile blood flow and can cause impotence in males.
Smokers have a three to five-fold increase in coronary artery disease compared to non-smokers.
Smoking is associated with the development of urinary tract cancer, bowel cancer, pancreatic cancer, cervical and uterine cancer – and yes, lung cancer.
Smoking is a potent risk factor for atherosclerosis.
40% of heavy smokers die before they reach retirement age.
Nicotine causes adrenaline release, which can cause anxiety, heart palpitations, diarrhea, and high blood pressure.
Hydrogen cyanide, a chemical in tobacco smoke, causes inflammation of the bronchi which leads to bronchitis. Chronic obstructive pulmonary disease and emphysema often eventually result.
The adrenal stimulation caused by nicotine can aggravate hypoglycemia. Eventually, adrenal exhaustion results.
The American Lung Association reports that 350,000 Americans die each year from cigarette smoking. This is more than the combined deaths from illegal drugs, traffic accidents, suicide, homicide, and alcohol.
Don't Kid Yourself.
Smoking tobacco is incompatible with a healthy lifestyle.
Vitamins and Mineral Supplements
Your Concise Guide To Nutritional Supplements
Definitions
Vitamins are organic compounds that are necessary for human life and health. Vitamins cannot be manufactured in the body (vitamin B12 is an exception) and so must be obtained from diet.
Minerals are inorganic ions (metals) that are also necessary for life and health. Minerals are not manufactured in the body and so must be obtained from diet.
Trace minerals are minerals necessary to the body in extremely small, or "trace," amounts.
Accessory nutrients are substances that are not absolutely necessary for life and health (as vitamins and minerals are), but that participate with vitamins and minerals in numerous biochemical reactions.
Vitamins: What You Should be Taking, and Why
Taking vitamins is a wise health and prevention measure. Deficiencies of vitamins and minerals cause many diseases. Adding vitamins and minerals in supplemental form is an inexpensive "insurance policy" against some of the worst diseases of modern times.
A deficiency of vitamins and minerals are associated with these diseases:
A deficiency of antioxidant vitamins and minerals (especially beta carotene, vitamins C & E, and selenium) is associated with higher incidence of cancers of the colon, breast, prostate, mouth, lungs and skin. Some researchers believe that antioxidant vitamin and mineral deficiencies may be related to higher incidence of all cancers.
A mineral deficiency, especially magnesium and potassium but also calcium, is associated with high blood pressure.
Deficiencies of vitamins E, C, B6, B12, folic acid (a B vitamin), and bioflavonoids are associated with cardiovascular disease. The connection between vitamin E and heart health is so well established that conventional medical cardiologists are instructed to recommend vitamin E to their patients.
Healthy bones, and the prevention of osteoporosis, depend on sufficient levels of minerals, including calcium, magnesium, boron, zinc, copper, B vitamins, and vitamin D.
In males, benign prostatic hypertrophy is associated with decreased levels of zinc. Zinc deficiency also correlates to decreased immune function. Hypoglycemia (low blood sugar) and diabetes (high blood sugar) occur more frequently in people who are chromium deficient. After diabetes is present, low levels of vitamins A, C, E, plus zinc, selenium, choline, bioflavonoids and B complex vitamins are associated with more complications from the disease.
This list could go on for pages, but you get the idea. A deficiencyof key vitamins and mineralsare correlated with disease. Such vitamin deficiencies are also common in the modern American diet. Depleted soils result in lowered vitamin and mineral content in produce AND Americans eat less fresh produce than ever before. Much of our food is highly processed, removing not only vitamins and minerals but also fiber and enzymes.
The best health insurance may not be an expensive medical policy, but the addition of sufficient vitamins to fill in the gaps in our day-to-day nutritional status.
Some people take a wide array of individual and/or exotic supplements, but these should NOT replace a basic, healthful level of vitamin supplementation. I have listed the best and most complete formulas for basic multiple vitamin and mineral supplementation. I recommend this for all adults over age 18. If you have a special medical condition, consult an holistic physician for further recommendations. (See Telephone Consultations with Dr. Myatt)
Basic Vitamins and Minerals Supplement Program (For health maintenance in healthy individuals OR as the basis of a health program in those with known health problems). 1) Multi Vitamin / Mineral formula without iron (unless your doctor has specifically told you to take iron). There is no such thing as a good multiple vitamin supplement in a single pill. Optimal daily dosage levels of essential vitamins and minerals do not fit into one tablet or capsule. Expect to be taking 6 to 9 capsules or tablets to fulfill Optimal Daily Doses of key vitamins.
Modern Dietetics In A Nutshell
Nutritional Deficiencies
It has long been recognized that the human body will not function efficiently without vitamins and minerals. In fact, serious diseases and death result when nutrient levels become too low. Because vitamins and minerals are necessary for every chemical reaction in the body, an excess or deficiency can greatly alter physical function.
"RDA's" (nutrient levels recommended by the U.S. Department of Agriculture) are sufficient to prevent serious deficiency-caused illnesses. (Rickets due to vitamin D deficiency, for example). They are not sufficient for optimal health and well-being.
Many scientists today agree that higher levels of certain nutrients are necessary to protect us from disease. It is also an accepted fact that even small deficiencies of nutrients can result in a decline in physical health, often before modern medicine can name a "disease." Such deficiencies are called "subclinical," (meaning "before they are a diagnosable illness") and are the precursors to more serious illness.
The Standard American Diet (S.A.D.) is typically excessive in calories while being deficient in vitamins, minerals, and accessory nutrients. This is probably due to several factors: easy availability of refined-flour, high sugar foods; extensive processing of foods (which removes nutrients and fiber); and plant foods grown in mineral-deficient soils.
In addition, increased environmental exposure to toxic substances increases the body's need for certain nutrients, especially antioxidants. (See Antioxidants.)
To ensure that you are obtaining optimal dietary nutrient levels, examine your current diet in view of the vitamin/mineral/accessory nutrient guide below. Keep a three-day diet diary to assist in calculating your baseline level of nutrient intake. Then, make dietary changes and take nutritional supplements as needed to ensure daily optimal nutrient intake.
Which Vitamin Formula is Right For You?
If you are a: Multiple Formula Antioxidants Comments Man Maxi Multi OR Once Daily MyPacks Included in Maxi Multi and MyPacks A separate antioxidant is usually needed with other multiples, not with these. Woman of Childbearing Age Nutrizyme with iron (see comment) OR Once Daily MyPacks Included in Maxi Multi and MyPacks Take a multiple WITH iron if you have heavy menstrual flow. Post-Menopausal Woman Maxi Multi OR Once Daily MyPacks Included in Maxi Multi and MyPacks Take additional Cal-Mag Amino to total 1200-1500 mg calcium per day if you are at risk for Osteoporosis. Senior Maxi Multi OR Nutrizyme with iron (see comments) Included in Maxi Multi and MyPacks Take a formula with iron only if directed to do so by your doctor. Children Children's Multi-Vitamin and Minerals Children's Antioxidants Specially formulated for children ages 4-12.
Vitamins
vitamin major functions major deficiency associations optimal adult dose range best food sources cautions/
notes vitamin A bone formation
skin health vision night blindness, dry eyes,
skin diseases 5,000-10,000 IU fish liver oils Do not take more than 50,000 IU per day for 3 months without medical supervision.
beta-carotene
converted to vitamin A in the body; antioxidant ulcerative colitis, skin diseases, smoking 10,000-50,000 IU green and yellow vegetables; carrots Use only natural beta-carotene; high doses may cause yellow skin (harmless).
vitamin D
increases calcium absorption;
decreases overall mortality rate osteoporosis, rheumatic pains, dental disease,
cancer,
impaired immunity 800-5,000 IU or as
directed by a physician. SUNSHINE! fish liver oil egg yolk The current daily dose of 400IU may be be set too low for optimal health.
vitamin E (tocopherol)
cellular respiration; antioxidant heart disease neurological aging 200-800 IU wheat germ oil, nuts, whole grains, egg yolk Doses over
800 IU day may elevate triglycerides.
blood clotting factor; bone formation osteoporosis 20-100 mcg broccoli, spinach, green tea, green cabbage, tomato Do not supplement if you are on anti-epileptic medication.
vitamin C
collagen synthesis, anti-viral, wound healing, antioxidant joint pain/arthritis, atherosclerosis, bleeding gums, decreased immunity 300-3,000 mg broccoli, red pepper, citrus fruits, cabbage At high doses, vitamin C will loosen the bowels.
vitamin B1 (thiamine)
energy processes fatigue, mental confusion, neuropathy 5-100 mg eggs, berries, nuts, legumes, liver, yeast Nontoxic.
vitamin B2 (riboflavin)
energy processes, wound healing, activates other B vitamins infection, cataracts, blurred vision, eye surgery 5-100 mg green leafy vegetables, eggs, organ meats Nontoxic. Higher doses will make urine a harmless, bright yellow.
vitamin B3 (niacin)
energy processes depression, tension headaches, memory loss 20-100 mg milk, eggs, fish, whole meal wheat flour Doses greater than 50mg may cause a skin flush. Take high doses only with doctors supervision.
energy processes; adrenal gland function allergies, morning stiffness; fatigue; muscle cramps 10-1,000 mg eggs, yeast, liver No known toxicity.
energy processes; antibody formation insomnia, irritability, atherosclerosis 5-200 mg wheat germ, yeast, whole grains Oral contraceptive use increases need for this vitamin.
Folic acid
red blood cell formation, RNA/DNA synthesis fatigue, depression, atherosclerosis 200-800 mcg beans, green leafy veggies, yeast Do not take with Phenobarbital or dilantin.
vitamin B12
red blood cell formation; energy processes atherosclerosis, memory loss, GI symptoms 10-1,200 mcg fermented soy products; root veggies Nontoxic.
energy processes; blood sugar regulation muscle pain, depression 300-600 mcg egg yolks, whole wheat No known toxicity.
Minerals
Mineral: functions deficiency associations adult dose range food sources cautions
*Calcium
bone & tooth formation; heart & muscle function osteoporosis, bone spurs, muscle cramps, rheumatism 200-1500 mg barley, kale, unrefined grains; milk, green veggies Prolonged excess may cause a mineral imbalance.
*Magnesium
energy processes, nerve function, enzyme activation stress, senility, osteoporosis, insomnia 150-600 mg avocados, almonds, whole grains, grapefruit Doses over 400 mg can cause diarrhea in some people.
pH balance, nerve function stress, atherosclerosis, high blood pressure 1800-5625* mg * a normal diet should contain sufficient potassium potato peel, bananas, beans, almonds, whole grains Do not take high supplemental doses (food Sources are O.K.) when taking heart medicine without physician guidance.
Sodium
pH balance, nerve function Excess is more common and is assoc with high blood pressure limit daily intake to 1,500 mg okra, celery, black mission figs Very few people (athletes, diarrhea /vomiting) need to supplement.
energy production, bones/teeth, B Vit. activation tooth/gum disorders, impotence, equilibrium 300-600 mg barley, beans, fish, lentils, dark green veggies Prolonged, large doses can cause calcium deficiency or mineral imbalance.
Iron
Red Blood cell production dizziness, depression, anemia 10-30 mg blackberries, cherries, spinach Do NOT take iron unless told to do so by your doctor. Iron excess is associated with health problems.
*Zinc
co-factor in numerous metabolic processes prostate enlargement, immune deficiency; atherosclerosis 15-50 mg wheat germ, wheat bran, pumpkin seed, avocado, sea food Large doses (50mg, day) can cause a copper deficiency & other mineral imbalances.
Red blood cell production; skeletal, heart & muscle function osteoporosis, digestive function, nerve disorders 2-3 mg green leafy veggies, almonds, beans, sea food Higher doses can be toxic.
glandular function, bone & ligament health  diabetes, asthma, digestive disturbance 2-10 mg nuts, seeds, avocados, grapefruit, apricots High doses may create other mineral imbalances.
*Chromium
glucose metabolism; blood sugar regulation; heart function atherosclerosis, diabetes, hypoglycemia, high cholesterol, overweight 200-500 mcg whole grain cereals, molasses, meat, yeast Nontoxic at therapeutic levels.
*Selenium
antioxidant, synergistic with vitamin E cancer prevention; aging 100-200 mcg bran, whole grains, tuna, broccoli, onion Prolonged excess may be toxic. * indicates minerals most often deficient in the diet. Other minerals not marked with a * usually do not need to be supplemented. Other minerals and trace minerals include: molybdenum, flourine, chlorine, cobalt, silicon, boron, sulphur, vanadium
ACCESSORY NUTRIENTS
Bioflavonoids – compounds found in most plants in association with vitamin C. Bioflavonoids are potent antioxidants. Higher dietary levels are useful in heart disease and atherosclerosis, bleeding gums, weak immune system, inflammation, varicose veins, hayfever.
CoQ10 – (ubiquinone) A naturally-occurring compound in the human body that is a vital co-factor in energy production. Conditions benefited by increased CoQ10 levels include: cardiovascular disease, angina, congestive heart failure, mitral valve prolapse, immune deficiency, obesity, diabetes, periodontal disease, cancer, muscular dystrophy. Also use in longevity and rejuvenation programs.
Fiber – Plant cell walls present in whole grains, legumes, fruits and vegetables. This part of the plant is usually lost in processing. Fiber deficiency is associated with numerous illnesses: obesity, atherosclerosis, diabetes, gallstones, varicose veins, constipation, diverticulosis, irritable bowel, colon cancer, high blood pressure and high cholesterol.
FOS (fructooligosaccharides) Naturally- occurring sugar-like substances that act as food to friendly GI bacteria. In human body cells, this substance is not utilized as energy (or as a true sugar), but to probiotic gut bacteria, FOS is a banquet. The addition of FOS to probiotic formulas (as in Enterogenic concentrate, product # 218), helps good bacteria re-colonize the GI tract faster and more plentifully.
Friendly bacteria – (probiotics) The naturally-occurring bacteria of the colon help protect us from many conditions, including candidiasis, allergies, constipation, B12 vitamin deficiency. These good bacteria are damaged or destroyed by dietary imbalances, antibiotic and other drug use. Replacement of good bacteria results in improved colon function.
Glucosamine sulfate – A naturally occurring substance that has been found to be highly effective in treating osteoarthritis. It acts both to reduce pain and to stimulate joint repair.
5-Hydroxy-Tryptophan-(5-HTP)
5-HTP is the intermediate metabolite of the amino acid L-tryptophan. This amino acid intermediate participates in the body's production of serotonin. It also stimulates increased endorphin, melatonin, norepinephrine and dopamine production. These brain chemicals (neuro-transmitters) help increase energy, improve mood and sleep, and decrease appetite. Useful for insomnia, mood disorder (anxiety/depression) and weight loss programs.
L-Carnitine – an amino acid that is crucial to normal energy production and fat metabolism. Carnitine has been shown to benefit atherosclerotic heart disease and high cholesterol and triglycerides. Improves fat metabolism throughout the body.
L-Glutathione – A tri peptide (3 amino acids) that acts as a potent antioxidant in the body. Supplementation is useful in allergies, cancer prevention, liver detoxification, cataracts, heavy metal toxicity, longevity and rejuvenation.
Omega-3 Oils are derived from fatty fish and flax seeds. These fatty acids are anti-inflammatory and have a positive effect on cardiovascular disease, including high cholesterol and high blood pressure, allergic and inflammatory conditions (including psoriasis and eczema), autoimmune diseases, cancer, neurological disease, menopause, general health enhancement.
Omega-6 Oils found in evening primrose, black currant, borage and a number of vegetable oils. Although supplementation is popular, these oils increase arachadonic acid levels (an inflammatory substance). Only diabetics need to supplement very small doses of this oil. (less than 500mg/day).
With Natural Cosmetics
Overview
The skin (integument) is a semi-permeable barrier that represents the body's first line of defense in protection from the external environment. It is also one of the first things that people notice about us. Healthy skin is both a cosmetic blessing and a sign of healthy underlying systemic terrain.
In this presentation, we will focus on a program of rejuvenation designed to restore skin to a more healthful, beautiful state.
Functions of the Skin
The skin is often under-appreciated for the numerous benefits it affords us. It protects the body from mechanical, chemical and thermal injury. With the help of glandular secretions, skin provides a first line of defense against many pathogenic microorganisms. By virtue of its immunologically active cells, skin takes part in the defense mechanisms of the body.
The skin assists in regulating the water balance of the body. It both protects the body against desiccation (conserves water) and provides a method of loss of fluid and mineral salts (eliminates water). It also provides assistance to the kidneys in eliminating water-soluble toxins via such fluid loss.
Skin helps maintain body temperatures by its ability to regulate deep and superficial circulation and its ability to sweat, which provides a form of evaporative cooling.
With its many sensory nerve endings, the skin acts as a sense organ for pressure, temperature and pain. The ability of skin to blush, sustain piloerection (hairs standing up), express pallor, etc. means that the skin is also a communication method from the autonomic nervous system to the outside world.
GI-Liver-Kidney health are necessary for clear skin. The skin is an organ of elimination. The composition of perspiration is very similar to urine, only more dilute. Acne, boils and other infective skin diseases represent eliminatory attempts on the part of the body. Gut-derived endotoxins are absorbed from the large intestine into the hepatic-portal vein where they proceed to the liver for detoxification. Toxic substances are rendered water soluble in the liver and proceed to general circulation, and then to the kidneys for removal. When more toxins are presented to the kidneys than they can efficiently remove, the skin will also begin to eliminate the excess water soluble toxins. Such toxins can irritate, inflame and infect the skin, just as they can the kidneys and urinary tract. Taking steps to detoxify the gut-liver-kidney axis is an important first measure whenever infective skin conditions exist. [Refer to notes on Detoxification for a comprehensive list of herbs and natural remedies to accomplish this].
DIET AND LIFESTYLE RECOMMENDATIONS
Diet: The skin requires essential fatty acids, antioxidants and a wide variety of nutrients. Be sure to include ample berries and green vegetables in the diet, and minimize Omega-6 fatty acid intake (please refer to The Super Fast Diet for more information about healthful Omega Ratios).
Water: Drink 64 ounces of pure water daily. Water comprises over 60% of the adult human body. Water keeps the skin "plump" and prevents the appearance of fine lines. Even subtle deficiencies of water will cause minor skin lines to appear deeper and more noticeable. Dry skin is often also associated with subtle dehydration.
Don't smoke! Smoking constricts superficial blood vessels that supply the epidermis with water and nutrients. Although the skin can sustain brief periods of diminished blood flow without incident, continuous deprivation of nutrients and water, as caused by cigarette smoking, greatly hastens the aging process of the skin. Additionally, cigarette smoking requires a person to repeatedly "purse" the lips. This, combined with compromised nutrition, accelerates the development of fine lines around the mouth.
Ultraviolet light is beneficial to the skin and body in small amounts. Sunlight is antimicrobial to the skin and stimulates the body's endogenous production of vitamin D. Excessive ultraviolet light, as from the sun or tanning booths, is associated with premature skin aging, excessive discoloration ("age spots") and increased risk of skin cancers, including melanoma.
Use Healthful Cosmetics. cosmetics applied to the skin can effect its appearance and function. Because the skin is a semi permeable barrier, ingredients in cosmetics can be absorbed into the body.


PRIMARY SUPPORT

Maxi Multi: 3 caps, 3 times per day with meals. Optimal (not minimal) doses all vitamins but especially vitamins A,C,E, carotenes, sulfur, silicon and bioflavonoids are particularly important to the skin.
Omega 3 fatty acids:
Flax seed meal, 2 teaspoons per day with food
OR
Flax seed capsules: 2-4 caps, 3 times per day (target dose range: 6-12 caps per day)
OR
Flax seed oil: 1 tablespoon per day
OR
Max EPA (Omega-3 rich fish oil): 1-2 caps, 3 times per day with meals (target dose: 3-6 caps per day).
Grape Seed Extract: (100mg): 1 cap, 3 times per day with meals. The PCO's in Grape Seed Extract help maintain and improve the skin's elasticity.

A Basic Regimen for Skin Care

1.) Cleanse. The purpose of this is to remove surface debris and aid in the exfoliation. Cleansing should be accomplished with a mild soap such as Dove or with a gentle cleanser. Avoid harsh alkali products (most soaps) which strip the skin of natural oils.

2.) Exfoliate. Exfoliation involves removing the most superficial layer of the skin by mechanical or chemical means to accelerate the turnover of new skin cells. This exposes new skin sooner, giving a more youthful appearance. Exfoliation can also remove bumps and rough spots and "buff" smother skin. There are a variety of ways to exfoliate.
A.) Mechanical, using scrubs that contain fine-textured particles such as salt, kelp, finely group walnut or other nut shells, or synthetics. Start with a very fine grain of scrub and use slowly, giving the skin time to get used to the abrasiveness. Skin brushing with a very soft, fine-bristle brush accomplishes exfoliation and buffs the skin to a fine texture.
B.) Chemical, using alpha hydroxy acids (AHA's): citric, lactic, or glycolic acids found in fruit. These provide chemical exfoliation and make the skin more receptive to whatever cream or lotion is to follow. They can be used alone, especially at night, for oil-prone skin. There are many AHA-containing products now available, ranging from .05-.10% acids. Stronger acids are available from a dermatologist or aesthetician.

3.) Moisturize. Use any pure product that contains fixed oils or fatty acids to help seal the skin and prevent moisture loss. Even oily skin needs to conserve water. A light, non-greasy moisturizer can be used. Rejuvenex cream contains healthful moisturizers and antioxidants which protect the skin from free radical damage.

4.) Protect. Use good sunscreen that contains at least an SPF of 15 and protection against UVB and UVA light. Sun damage greatly accelerates signs of skin aging including wrinkles, pigmented spots and patches, and skin cancer. Rejuvenex cream contains sunscreens to protect from both UVA and UVB radiation. It can be used alone or under makeup.

Special Treatments for Skin

Special treatments for skin include packs, masks, and deep-cleaning regimens that can be used once per week (more with oily skin) to give deeper therapeutic benefit.

1.) Clay packs. Made from bentonite or other clays, have a drawing effect which helps lift impurities from the pores. Essential oils can be added to the clay to give additional benefits. Lavender essential oil is soothing. All essential oils have antimicrobial properties and are useful in cases of acne where bacteria are involved.

2.) Moisturizing masks: Mashed avocado makes a wonderful mask that leaves skin feeling soft and highly moisturized. Other substances that can be used include mayonnaise and Crisco (vegetable lard).

3.) Exfoliating masks: Mashed papaya contains papain, an enzyme which gives a deeper exfoliating treatment to the skin. Plain yogurt contains lactic acid, strawberries contain fruit acids. Any or all of these can be used as pure, gentle, exfoliating masks.

Additional information about skin health you may find of interest:

Botanical Materia Medica for Skin Rejuvenation

Any and all herbs used for systemic detoxification are potentially useful in skin rejuvenation. Please refer to Detoxification.

Gota Kola—Centella asiatica (Umbellifereae)

Gotu kola is an Ayruvedic herb that is now popular in the West. It contains triterpene saponins, alkaloids, bitter principals, and is antimicrobial. It is credited with numerous actions, including anti-inflammatory, adaptogenic and antiseptic. Its effect on skin is to normalize connective tissue metabolism by stimulating glycosaminoglycan synthesis without promoting excessive collagen formation.

The herb is also used for varicose veins because of its ability to enhance the structure of the connective tissue sheath, reduce sclerosis and improve blood flow.

Grape Seed—Vitus vinifera

Oligomeric proanthocyanidin complexes (OPC's) from grape seed and other species, such as Landis' pine, is one of the most potent antioxidants known. OPC's trap reactive oxygen species including hydroxyl radicals, peroxyl radicals, and lipid radicals; they also delay the breakdown phase of lipid peroxidation. OPC's inhibit platelet aggregation in part by raising cGMP levels and protecting against epinephrine renewed cyclic flow reductions. In addition, OPC's inhibit certain proteolytic enzymes, including collagenase, elastase, beta-glucuronidase and hyaluronidase which can damage the extracellular matrix surrounding capillary cells.

Bilberry—Vaccinium myrtillus

The flavonoids in bilberry, specifically, anthocyanosides, promote prostacycline production and inhibit platelet aggregation in a manner similar to ginkgo. The potent antioxidant effects seen in this herb stabilize the vascular system and are therefore useful in treating capillary fragility, venous insufficiency, and varicose veins.

Chamomile—Matricaria recutita, Anthemis nobilis

German and Roman chamomile are used interchangeably, especially for the skin. Both contain chamazulene, an anti-inflammatory agent that is commonly used in face creams.

Lavender—Lavendula angustifolia

Lavender contains up to 3% volatile oils. It is anti-inflammatory, antiseptic and antibacterial. As such, the essential oils make a worthy addition to cosmetics, especially for those with acne or oily skin. Essential oil of lavender is one of the few essential oils that can be applied undiluted. It is useful for burns, cuts and abrasions to the skin.

Essential Fatty Acid-Containing Botanicals

Linoleic fatty-acid containing oils favor the production of the prostaglandin three series (anti-inflammatory). The essential composition favors adequate skin oil production without inflammation.

Borago officinalis (Borage seed)

Linum usitatissimum (Flax seed)

Oenothera biennis (Evening Primrose)

Ribes spp. (Black and Red Currant, Gooseberries)

Other Herbs to Consider for Skin Health

Aloe vera—Aloe

Any flavonoid-containing herb may benefit the skin because of the stabilizing effect on the vascular system which decreases capillary fragility. Flavonoids also demonstrate anti-inflammatory effects